Trip Highlights Everest Home Home

DAY NINE Lobuche, 16,200 ft. to Pangboche, 13,200 ft.
I know it's not frostbite because my toes and fingers are pink in color, but the tips of both my toes and my fingers seem to be numb. Rubbing them vigorously doesn't really help. Tom says he has the same sensation. (Two weeks later all the skin on the tips of my toes and fingers would peel away.)
Today we start back down. Mike says it's going to be a long day and when he says that, I'll be darned if he isn't right. Just once I'd like to catch him in a mistake! Today we will hike all the way back to Pangboche which is at 13,200 ft.. Since we are going down, the air will get a little thicker and we will find ourselves breathing a little better. At least we're back on schedule with breakfast again. Eggs, Nepali bread, hot cereal, and as much as we want of it. Having slept through dinner, I make the most of this great breakfast.
We're ready to leave at 7:30. The sun isn't up and the temperature is well below freezing. Once again, if I own it I'm wearing it. Today's trip will take us down into a huge valley with towering mountains on either side of us. It will be spectacular.
The sun is finally coming up; unfortunately its rays hit the western side of the valley first and we are, of course, walking down the eastern side of the valley. It takes a good 45 minutes for the sun to reach us, but when it does, a burst of energy seems to strike me as I pick up my pace down the trail.
We aren't actually walking on a well-groomed path or trail. In fact, there are no well-groomed paths and trails in the Khumbu. Everything is just as it is. Frequent harsh winters, avalanche and snow slides sometimes completely obliterate the trails which then must be totally reformatted.
We are walking on the terminal moraine of the glacier. That is the outside, or in this case, the eastern side of the glacier, which has a large number of rocks and sometimes boulders which must be carefully traversed. To top it all off, since this is a glacier, we experience a constant flow of water which must be avoided at all costs. Wet feet would surely mean blisters, which I have miraculously avoided thus far.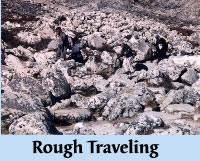 We break out of the glacier into more of an open field and can see our objective ahead -- the town of Pheriche (fare eesh). It's pretty much of a wide open run so I step up my pace in order to get there more quickly. As it turns out this was a serious mistake.
When hiking at high altitude I have always tried to establish a pace which will help me acclimatize while at the same time maximizing my strength. Having done this successfully throughout the trek I now break my own cardinal rule and speed up. I reach the lunch spot, passing several fellow trekkers on the way, but I will pay a price for it as I gave away valuable energy I would desperately need after lunch.
Lunch was good, filling, and lots of carbohydrates; however, what I wouldn't give for a steak dinner, baked potato with sour cream, butter, chives, and bacon bits. A popular seasoning in this part of the country is curry and it seems that it's on every dish at every meal. I never was a great fan of curry to begin with and I'm almost to the point where I can barely tolerate it at all.
I leave lunch somewhat rested, but fail to recover some of the valuable energy I gave up this morning. I am really in no way ready for the grueling four hours ahead of us to get into camp. Thus far today it's been pretty much down hill, now we start back up again. We will gain over 1,700 ft. in the next four hours which represents slightly less than 50 percent of what we lost in the morning.
Once again we're on a trail that is rocky and greatly exposed. Some spots are no more than 20 inches wide. Now, 20 inches may seem like a lot as you measure that distance across your desk or in your office, but when you're facing a rocky, uneven path, 20 inches wide with a 10,000 foot drop off, the perspective is very, very different.
Shorten the trekking poles when going uphill, lengthen when going downhill, and you have at least two points of contact at all times. In this particular instance all the exposure is on the left. I lengthen the pole in my left hand by about an inch and a half. Whether it in fact accomplishes anything or not I don't know, but it gives me greater confidence and that is what I really need at this point.
I arrive in camp, find my tent, and literally fall on my mattress pad. The next sound I hear is "Warm washing water sir?" My guess is I had fallen asleep for awhile . . . I have no idea for how long. Now it's too dark to open the combination lock on my duffel bag so I borrow a flashlight, find my headlamp, and gratefully use the washing water.
This particular night we have dinner inside the teahouse. Because it has been such a long day I treat myself to a glass of Nepali beer.
All beer, all anything, used in the Khumbu must be trekked in from Kathmandu. We passed several porters one day, each carrying five cases of beer and other various items to be sold in the teahouses. This particular beer, trekked into Pangboche by porter, cost us 400 Rs per can or about $4.60. To be sure, I've had better beer, but there are certain times when any beer, regardless of brand, sure hits the spot.
During dinner Mike informs us that we have a very long day ahead of us the next day . . . so what else is new? However, it is his use of the word "very" to describe "long day" that catches my attention. We've had long days . . . what could be worse? I wonder what a VERY long day is. I don't bother to ask. We grudgingly leave a delightfully warm teahouse to venture into dreadfully cold tents.
Since all of our drinking water has to be boiled, I leave with two hot water bottles in my hand and immediately throw them into the bottom of my sleeping bag.
I put on my big wooly socks, jump into my sleeping bag, and slide my feet to the bottom, anxiously anticipating the hot water bottles. Ah yes, nothing like hot water bottles in the bottom of a sleeping bag to warm up your feet.
But wait! What's this? Something isn't right. One of the bottles is leaking! One of the sherpas had apparently failed to screw the cap on tightly, and worse yet, I failed to check it.
Now I'm facing a minor disaster. My sleeping bag, which is wet now, will be frozen in a couple of hours, and ice by morning. I hurriedly throw a couple of shirts over the wet spots, tuck my knees up under my chin, and remarkably sleep very well all night.