Trip Highlights Everest Home Home

DAY TEN Pangboche, 13,200 ft. to Khumjung, 12,300 ft.
I awake to the sound of the sherpa boys banging pots and pans as they prepare breakfast. I sit up and the whole tent begins to spin. Everything seems to be on its side. If I turn my head one way everything falls one direction; I turn it the other way and everything falls in that direction. VERTIGO!
A serious case of vertigo will not allow you to stand up. It has something to do with your inner ear. Your equilibrium is totally gone. Unless someone is there to support you, you'll fall over. One of the horrible side effects produced by vertigo is nausea.
I've had vertigo twice in my life. The first time I couldn't get out of bed for seven days, couldn't read, couldn't watch television, and had to be assisted into the doctor's office. The second time it bothered me for a little more than a couple of hours. I lie back and wonder just how severe this is going to be, and if it IS bad, how will I get down from the mountain?
I sit up again, very slowly. To my great relief, the room doesn't move and I'm not nauseous. Maybe the sensation I had experienced several minutes ago was a result of coming out of a deep sleep and sitting up too fast at high altitude. I continue to move very slowly, eat breakfast, and we hit the trail at about 8:00. So far, so good. A little dizziness, but not enough to be of any serious concern at this time. The trail today will take us to Khumjung at 12,300 ft. The air will be richer and thicker as we go lower.
That's the good news. Here's the bad news. Pangboche is on one mountain; Khumjung is on another. Short of flying there, there's only one way this can be accomplished . . . by crossing the Dudh Kosi River which is over 3,000 ft. below us.
So here's the picture. We will hike approximately 3,000 ft. down, cross the river, and then hike 2,000 ft. up to our camp in Khumjung.
AH HA! Now I understand what Mike meant when he said that this would be a "very" long day.
I find the way they constructed these trails to be very interesting. Take a hill that is 16,000 to 18,000 ft. high. We might refer to elevation of that nature in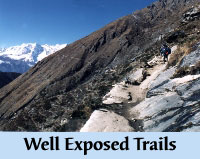 the U.S. as a mountain. In the Himalayas it's just another hill. The slant of the hill could be as much as 35 to 40 degrees, and the path as wide as four and five feet in some areas, and as narrow as two feet in others. An oncoming yak train forces one to scurry very quickly to find adequate high ground.
We start down. There are some places where very steep, sharp steps have been cut . . . they are a challenge to negotiate. I turn to look down into the valley and all of a sudden everything starts spinning again. I stop immediately and grab the large boulder nearest to me. This is truly a frightening situation. Any misstep at all would be fatal. Not only would I fall 10,000 to 12,000 feet, but since I am hiking alone no one would know where I was or what had happened.
At this point I have very few options, none of which are appealing, but one must be acted on. I decide to proceed very slowly using my hiking poles, placing one foot in front of the other and looking at nothing but the ground immediately in front of me. When I get to a particularly difficult area with steep, sharp, narrow steps, making a turn and going straight down, I sit down and inch my way down each step, one at a time, until I am able to stand up again.
Again, it is one foot in front of the other looking only at the trail immediately in front of me and plodding along.
About 40 minutes later I come across Mike, Tom, Joe, and Maureen who are taking a brief rest break. Sitting down with them I debate whether or not to tell Mike about the mild case of vertigo I am experiencing.
Once again I weigh the options. I have done this entire trek on my own and want to continue to do so, but from the standpoint of my own personal safety it certainly would be good judgement to tell him. Secondly, because he is the leader and does have responsibility for the entire group, and the lack of knowledge on his part that one member of the group has an ailment which could potentially put the entire group at risk, makes it advisable to discuss it with him.
Mike sincerely appreciates my telling him that I am experiencing some vertigo and then proceeds to offer me some medication which he claims will help. I wonder for about a half a second how this medication will clash with the antibiotic I had taken in the morning and then with a big gulp of water swallow it down. We press on . . . Mike is now walking with me.
We finally reach the bottom, cross the river, have lunch, and start out again. This time it is all uphill, and remarkably I am feeling much better. All signs of vertigo seem to have disappeared.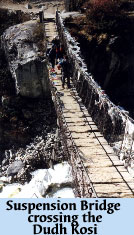 I can now look at the mountains, enjoy the scenery, and feel much more comfortable except for the fact that, once again, we are going uphill.
Granted, we are at a lower altitude and the air is thicker and richer, and even though we're acclimatized, hiking at 12,000 ft. is still no piece of cake.
Tom points out the top of the hill. I see it. I wish I didn't. It's a long, long way away. Finally after what seems like an eternity we crest the hill. There is a sherpa home that has been converted into a teahouse (most teahouses along the trek are also homes to sherpa families). Warm, hot milk tea never tasted so good.
Departing the teahouse we strike out for camp. I am led to believe it is just around the corner. It just so happens it is around several corners. I am aware of the vertigo returning so I go back to my old routine, placing one foot in front of the other and looking only at the trail immediately ahead of me. This serves me well until we arrive in camp.
The food has finally gotten to me. The breakfasts are okay, typically a bowl of cooked cereal, eggs, pancakes, and coffee. But lunch and dinner are something else. Every meal starts with a lentil or curry based soup followed by rice with some sort of a lentil sauce, curried potatoes, and maybe some sort of a bean dish. It's gotten so that I can't stand the smell of curry and eating has become very challenging. Not to worry, the Camp 5 staff accommodates me by preparing my meals separately, without curry.