WHY NOT SHARE THIS EXPERIENCE OF A LIFETIME WITH YOUR PEOPLE AT YOUR NEXT CONVENTION, TRADE SHOW, OR MEETING WITH OUR NEW MOTIVATIONAL/KEYNOTE ADDRESS "STEP OUT OF YOUR COMFORT ZONE"?
TO COMMENT ON THE TRIP, E-MAIL DAVE AT DAVER@RICHSPEAKING.COM OR CALL 1-800-338-5831.

It is our nature to wrap ourselves within the comfort and trappings of our life. To step away from that is very foreign to us. It requires a lot of courage, risk, and vulnerability to sometimes step out and discover who you really are and what you are really capable of doing. You don't have to go to Mt. Everest to step out of your comfort zone. You really have to look at where you are, where you want to be, and what one step, just one step, you need to take to start moving in that direction.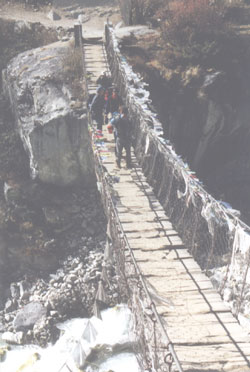 This program will challenge you to look deep within yourself to examine all relationships in your life, whether they are personal or family or business related. Many of us are on a trip of a lifetime right now. We just don't know it.

The mountains are all around you but you can't see them. The beautiful valleys are there but you walk right by them. People are reaching out to help you, to guide you, to support you, but you don't see them.

This keynote/motivational speech will help you look at every aspect of your life to determine where your priorities really are and focus not upon what you "should" be doing but what you really "want" to do. To find out more about this dynamic presentation customized to your group call 1-800-338-5831 or e-mail us at speaking@richspeaking.com
10 Keys to help you
"Step Out of Your Comfort Zone"
Decide what you really want from your life and what specific steps you must take to achieve it.
Believe in yourself . . . that you can be the best you can.
Create an experience of special achievement in your mind . . . reflect upon how satisfying it feels.
Seek out a personal coach with solid expertise in your area of concern, for example, a speech coach, business coach, or acting coach.
Listen to and sort out the advice of those who genuinely want to help you.
Read a book or listen to a tape about someone else who endured severe hardships in life to achieve specific goals.
Research and gather information which will boost your confidence level.
Take small practice steps and savor your progress.
Create a reward system for yourself, e.g., "When I make these 10 tough cold calls I will treat myself to a nice dinner." or "When I finish writing and practicing this speech . . ." or "When I sit down with my children and discuss their curfew . . . "
The very last thing you do at night as you fall asleep . . . visualize all the possibilities.