Trip Highlights Everest Home Home

DAY ELEVEN Khumjung, 12,300 ft. to Monjo, 9,200 ft.
At breakfast the guide announces that this will be an easy day. Easy day! I have absolutely no idea what that means any more, but after what we've been through it sure sounds good. We leave at 9:00, and our first stop is the Everest View Hotel.
Next we stop in Namche Bazar where we had spent two nights over ten days ago acclimatizing on the way up. We visit a couple of museums, one of which outlines the life and times of the sherpa culture and the other dedicated to mountaineering in the region.
We take a couple of hours to shop in Namche, and I return the camera. Once again I thanked the shop owner for his generosity in renting me his personal camera for use during the trip.
We then descend the infamous Namche Hill. When we came in it was a steady upward climb of 3,000 feet, now it was 3,000 feet straight down. We move rather quickly and arrive in camp just before the sun goes down.
I announce that I am probably in the best physical shape I have been in for the last 20 years and NOW am really ready to do the trek. Everyone finished significantly more fit than they were when we started. For myself, was the trip more challenging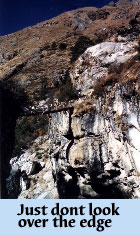 than I expected? Yes, it was. I'd been on several long hikes for two or three days at a time with no problem, but the majority of these hikes were at an altitude of 7,000 ft. or less. This trip will turn out to be 87-1/2 hours of hiking over 116 miles at altitudes ranging from 8,100 ft. to 18,500 ft.
The altitude aspect was ironically challenging. I've hiked and climbed at 15,000 ft. with no real noticeable problems. I even practiced with several climbs up Mt. Humphreys in Arizona which, at approximately 12,800 ft., is the highest point in the state, and had no problem whatsoever. My take was, if I can do 12,800 ft. I can certainly do 18,500 ft. After all, that's only an extra mile in altitude. Just one extra mile! Ha!
While my conditioning was far less than I had hoped it would be, I achieved far more than I thought (going in) I could achieve. I really had thought I'd be lucky to just make it to Thyangboche at 12,300 ft.
It was the determination to achieve the goal, to reach the objective, regardless of my conditioning or the altitude, that kept moving me forward. Today I am conditioned more, both physically and mentally, than 15 days ago. Today I know the challenge, I know what the hardship is, and I know I can beat it.
In our daily lives we encounter many challenges. The real question is do we have the determination to push on to the end, or will the challenge be more than we thought it was and turn us back?
Would I ever do it again? This trip, probably not. Been there, done that. But amid the filth and poverty of Nepal there is also a great deal of beauty and charm. Some day I will return to Nepal to once again trek in the beautiful Himalayas. Tomorrow is our last day. We will hike to Lukla and catch a plane out the next day.