Trip Highlights Everest Home Home

DAY SEVEN Dingboche, 14,200 ft. to Lobuche, 16,200 ft.
"Good morning. Hot tea with milk." I hear Conga Sherpa's voice outside my tent. I sit up, check my watch . . . 6:30 sharp . . . and acknowledge him in my gravely, sleepy voice. As he raises the zipper on the outside of my tent the frost explodes all over the inside and I feel like I'm in a snow storm.
The tradition of "bed tea" was started by the British years ago as they were pioneering the summits of these great mountains. The sherpas brought them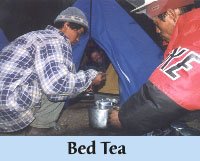 a cup of hot tea so that the climbers might be prepared to take on what the sherpas perceived to be impossible challenges. I sure enjoyed that hot cup of tea in a cold sleeping bag now covered with a dusting of "snow."
Today we will hike to Lobuche (lu bo shay), 16,200 ft. where we will prepare for our assault on the base camp the next day.
Gear packed, we start out, straight uphill. Why do we always have to start out and go straight up hill? It's not too bad, maybe only 500 ft. and we're at the top, and in front of us is this great flat plain, maybe like you'd see driving across Iowa or Nebraska, with the exception of the fact that mountains are towering on each side of us.
Three weeks ago a storm came through dropping about 2-1/2 ft. of snow in this area. It is still slowly melting, and soon we will be walking in it.
We hear a helicopter rotor and everyone strains their neck to try to see it. I pull out my binoculars and we see it land at the town of Pheriche (fara shay). The guide informs us that the helicopter has flown out of Kathmandu, and in order to effect a rescue at higher altitudes it is necessary to drop fuel at Pheriche. We watch the helicopter as it flies up and out of the valley . . . strange sight looking down on a helicopter. Twenty minutes later it passes us on its way back. At these high altitudes you are responsible for your own safety. 911 is non existent. Unfortunately, several trekkers die in the Khumbu region every year.
We stop for lunch and a brief rest before we tackle this hill looming before us which will take us to 15,000 ft.
I ate too much for lunch. I can feel it as I begin to start up the hill. I'm sluggish. My body isn't functioning the way I'd like it to. You know what it's like after you've eaten a big meal and you just can't seem to catch your breath? Well, try it at 15,000 ft. and see how it feels. But I keep going step by step by step, placing one foot in front of the other, moving ever so slowly up the hill. I am pushing myself hard, maybe too hard. I stop for a well-deserved rest break, take off my pack, lean back on a rock, and just reflect on the trip so far.
I take a look around me at the beautiful mountains and try to figure out what route someone might possibly take to get to the summit. Nothing looks easy -- seems to be almost vertical. By comparison, the trail I'm on really doesn't seem to be that steep anymore. The goal remains the same . . . get to the top. But now the perspective is entirely different.
Ten minutes later I'm back on my feet. I feel remarkably better, stronger, and much more enthusiastic about the steep challenge that lies ahead of me. I maintain my same steady pace that has done well by me during the entire trip. Life is very much the same way. I have a tendency to push myself very hard and then I push myself even harder.
Nothing wrong with pushing myself hard, nothing wrong with hard work, but every now and then I need to just lean back a little, maybe close my eyes for five or ten minutes and reflect on the elements of my life that have real meaning and importance, that have really taken me to where I am today and will lead me to where I want to go tomorrow. I've challenged my mind in the past, and now I've challenged my body. As a result of this once in a lifetime trek, every aspect of my life will now look different to me.
As I crest the hill I enter into the sanctuary of monuments to those sherpas and westerners who have perished on Mt. Everest. There must be over a 100 shrines here. I sit next to the shrine for Scott Fisher, one of the two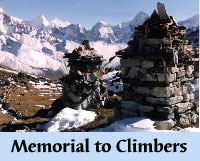 guides who died on the mountain in 1996 during the terrible tragedy which took the lives of nine people. Kind of makes me wonder how such a talented guide can made such a tragic mistake. However, as long as we seek out unusual adventures there will be someone to guide us there.
We finally arrive at the town of Lobuche, a dismal, dirty, filthy place . . . and it is very cold. It's estimated that the temperature tonight will drop to as low as 15 below zero.
Tomorrow is the big day. Tomorrow we trek to the base camp of Mt. Everest. We have a 3 a.m. wake-up call. My level of excitement and anticipation is high. The air is thin. I hardly sleep a wink.