Trip Highlights Everest Home Home

DAY TWO Phakding, 8,600 ft. to Namche Bazar, 11,500 ft.
Up at 6:30 with some hot washing water and milk tea -- tastes wonderful. Also very cold out. Temperature in the low 30's. Breakfast is bacon and eggs cooked to order, pancakes, hot coffee, and tea. We have to be all packed up before breakfast because when we come out, the tents are down and our stuff is gone and we are on to the next campsite.
This is going to be a day to be remembered. We are going to climb what they call "Namche Hill" which leads into Namche Bazar, the biggest village in the Khumbu region where people travel from all over -- Nepal, Tibet, China, some traveling as much as a week to ten days in order to sell their wares.
We pass many of these people along the trail and they are carrying at least 80 pounds strapped to their heads and backs. Eighty pounds on their backs, this rough, rocky terrain, frigid temperatures, yet these people who have never owned a pair of shoes in their lives are walking to Namche.
After a lunch of cooked Spam, rice, carrots and some kind of very delicious sauce we start up Namche Hill. Three thousand feet, straight up. Steep climbing. It will take us over four hours to get to the top. I can't believe the yaks can negotiate a trail that is this steep, but they do.
There's just one thing you need to know about yak trains and that is, "Get out of the way." Conservatively, each yak is loaded with 150 to 180 pounds of duffel bags, stoves, tables, chairs, you name it. A word of advice was given, and that was, "Make sure you're on the inside of the trail" when a yak train passes you.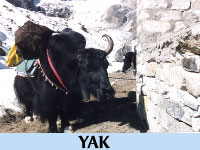 Earlier we watched as a yak train was approaching a group in front of us. A trekker from another group was standing on the outside of the trail one minute and the next he was gone. He fell about 100 feet straight down the side of a hill. He was helped to the surface by some of his friends, apparently no worse for the wear save a few scratches and bruises. He was lucky. He could've fallen as much as 10,000 feet.
About two hours into this hill and I'm really beginning to feel it. I don't know why they put this hill in direct sunlight. This kind of sun I can get in Phoenix. All of Camp 5's pre-trekking literature stressed that in preparation for the trek you should go out and run five to ten miles every day, take frequent ten to fifteen mile hikes, work out in a gym a minimum of six hours a week . . . right! I'm lucky to find time to run out and get lunch let alone run ten miles a day.
To top it all off, the five days before leaving on the trip I had two keynote addresses, a presentation skills workshop with a group of engineers and IT people, and three executive speech coaching sessions, none of which were within a thousand miles of Phoenix. Needless to say, I am not in condition for this steep hill.
And now, as I'm huffing and puffing my way up this hill, I'm struck with how accurate those pre-trekking instructions really were. I'm somewhat exhilarated by the fact that I get to cram all that pre-trek training into just one day.
The real discouraging part is that not only does the hill keep going straight up, but there's no top in sight. This is really hard work. I mean, it's not as though I'm carrying a 70-pound pack. All I'm carrying is a light day pack, two water bottles . . . hey, wait a minute, the pack is lighter, the water bottles are both empty. I feel so much better. I'm also carrying two cameras and a 300mm lens that weighs almost three pounds, along with about 50 rolls of film, a jacket, and some snacks. This hill sure makes the pack feel like 70 pounds!
The view is spectacular. The valley falls away in the distance, but I can still hear the rush of the Dudh Kosi River below. I round the corner on the switchbacks and there it is -- my first view of Everest. A cool burst of air fills my nostrils as I see snow is blowing off the top of the mountain and, even though it is 60 hours of hiking away, I stand there in awe of its magnificence. My energy is renewed.
Finally, finally I make the top of the hill. Namche Bazar, 11,500 ft., and I'm not feeling too bad. Mike, our guide, meets me there and I ask, "Where are the others?" He tells me, "They've gone by. You're the last one." I tell him I was just pacing myself and ask him where the camp is, to which he points straight up. I've seen a lot of gestures in my day, but this is certainly one that I was not expecting. After all, I'd made the top of the hill . . . I thought we were there. More "up" had not entered the equation.
Namche Bazar is a very unique town sitting on a hill which has been very skillfully terraced to permit the growing of potatoes, the main staple in the region. Mike says he likes to camp high, overlooking the town, and once again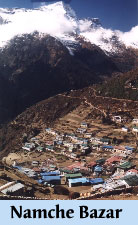 his accuracy amazes me because one-half hour later I am standing at the high point in the town, our campsite. Looking down on the town you can see their beautiful homes which are constructed of a sandy grey-looking adobe. The houses are very colorful with brightly painted shutters and trim.
At camp we're served hot tea, then it's dinner served in the dining tent. The rice, potatoes, lentils, and green beans are great and I am starved! Took my water bottles with me to dinner. Since no water in the region is drinkable everything must be treated and boiled. Typically this is done at night so when you retire to your tent you just throw your hot water bottles in the bottom of your sleeping bag to keep your feet warm. Boy, they think of everything don't they?
I was asleep before my head hit the pillow . . . what pillow? What I meant to say is I was asleep before my head hit a bag stuffed full of my underwear.